A Certificate Training Workshop on Be Industry Ready
Personality Can be Developed. Understanding & Awareness are the Keys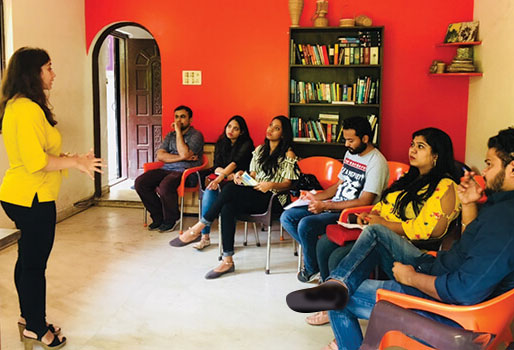 "Be Industry Ready" is a Certificate Training Workshop that addresses all your job-related concerns and much more. The Modules of this workshop are designed to address concerns like: Lack of Communication Skills, Self-Awareness and Self-Presentation Skills. It address Self-Esteem Issues. Provides Crucial Industry Insights and leaves you with a basic knowledge on computer skills that could help ease your computer related tasks at home or in office. Most importantly this workshop helps you understand your strengths and weaknesses and helps you build a Resume/CV keeping the basic core of your personality in mind. Be Industry Ready workshop helps you prepare for those nerve wrenching Interviews that you dread, and instead helps you develop an attitude of feeling like a winner no matter the result. The basic outline of the workshop remains the same. But the workshop is customised according to the needs, concerns and issues of the participants. Hence, no two workshops are ever the same. The objective is to truly understand the concerns of the workshop participants and exactly cater to their needs and concerns.
Special class with Industry Expert
MR. AFTAB CHASMAWALA
ASSOCIATE DIRECTOR ALLIANCE INSURANCE BROKERS
He has 15+ years of working experience with the industry. He currently develops and executes company's business strategies, Prepares and implement's comprehensive business plans. He works closely with talent requisition and talent management. He Control's and oversees business operations, people and ventures in countries like: India, Belgium, UAE, Hong Kong, China, USA and other major diamond trading hubs globally.
MODULE STRUCTURE
Learn through 'Behaviour Simulating, Hands-on' Ad hoc Activities, Role Plays & Mocks, Stories, Feed-backs and Industry Insights
I. COMMUNICATION SKILLS
Problem Identification, Understanding and tackling the Communication Barriers by using psychological counselling technique – RECBT
Overcoming 'Psychological barriers to communication' – Learning mindful communication: Response, listening and building relationships through right communication.
Understanding and tackling fear of Public Speaking and Interpersonal Communication.
Negotiation skills Do's and Don'ts. Effective conversation skills. How to engage people in a conversation.
Overcoming communication anxiety.
II. SELF ESTEEM & CONFIDENCE BUILDING
Learn the Art of Self-Presentation.
Overcome the 'Psychological Barrier' that hinders Self-Esteem, and Confidence.
Building and learning to sustain new behaviours and modified negative though processes and beliefs.
III. INTERVIEW SKILLS & RESUME MAKING
Learn to confidently express yourself during interview
Learn to make a resume that expresses your personality. 'Put your personality on paper'
Mock interviews – truly express your personality in the 5 critical questions
Learn the dos and don'ts of interview discussions
IV. ART OF SELF PRESENTATION
Learn the dynamics of Body Language. Learn facial expressions, gestures, posture, breath, timing and voice that apply in professional communicative situations
Persuasive power, physical presence, conversational skills
Being authentic
Expressing one's own strength.
Learn Power-Dressing.
Learn Assertive Behaviour
V. COMPUTER KNOWLEDGE
SPECIAL CLASS WITH INDUSTRY EXPERT
Gain valuable industry insights from 'Industry expert' – Mr. Aftab Chasmawala.
Focus on learning functional computer skills like – WORD, EXCEL, POWERPOINT & PRESENTATION SKILLS.
Humans have infinite potential. It is buried under the rubbles of self- doubt & low self-esteem. You can reach your potential with the right Counselling, Guidance and Awareness.
WHO CAN JOIN? :

18+ Age, Students, Working Professionals, Home Makers, all Learning Enthusiasts.

TIME :

3:30PM TO 8:30PM

TRAINING HOURS:

6 DAYS – 30 HOURS

WEEKDAY MODULE:

MON to SAT

TOTAL COST :

11,499/-

INTAKE :

LIMITED, PERSONALISED ATTENTION GUARANTEED – 4 Seats Only
As we have limited number of seats in our workshop, fees to be paid in full, before the commencement of the workshop. Fees paid against the courses is non-refundable
ASK FOR OUR WEEKEND BATCH